ABOUT SPALL & HARVEY ANIMAL HOSPITAL
VETERINARIANS IN KELOWNA, BC
Dog Dental Cleanings | Pet Flea Treatment | Animal Vaccinations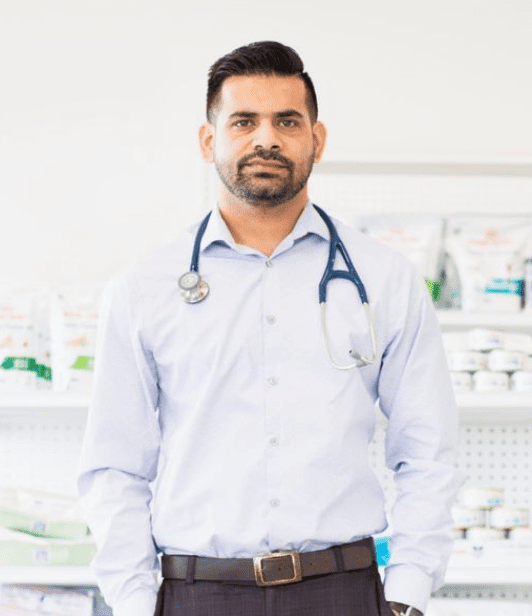 HARSH JOSHI
BVSC & AH, DVM
I graduated from the Punjab Agricultural University in 2011. After graduation, I enjoyed providing veterinary care for large animals until 2018 when I decided to move to Canada. I cleared the veterinary licensing requirement from the Western College of Veterinary Medicine in Saskatchewan, Canada, and stayed in Kamloops for 2.5 years working in a small animal clinic. Finally, I settled down in Kelowna, the heart of the Okanagan. I love to spend my time away from the hospital with my wife, Rohini, and my domestic shorthair cat, Rosé. I also take great pride in my son, Nitay, and enjoy going on walks and runs with him daily.
BarinderPal Sidhu
BVSC & AH, DVM
I graduated from the Punjab Agricultural University, in 2011 with Dr. Joshi. I cleared my veterinary licensing requirement from the Western College of Veterinary Medicine in Saskatchewan, Canada. Before moving to Kelowna, I worked in a small animal clinic for 2 years in the city of Airdrie, AB. Since then, I have moved to Kelowna with my wife, Monica, and my son, Kabir. I enjoy travelling, photography, outdoor activities and visiting my family and friends. I also love spending time with my 2 cats, adopted from a rescue, Triskit and Lettuce. Settling down in the Okanagan was always a dream of Dr.Joshi and I since our vet school days together.
Kaylee Lewis
Hello everyone, my name is Kaylee Lewis! I'm 28 years old and I attended and graduated from the VHA program here in Kelowna. I have a 3 year old Newfoundland dog named Abigail and she is my pride and joy! I love baking treats for humans and animals alike and one day, hope to sell specialized treats for pets with dietary restrictions.
Nyah Adams
From a very young age I have always been obsessed with animals. Spending a big part of my childhood on an acreage, we would take in tons of stray animals. The feeling of helping animals was incomparable. It didn't take very long for me to realize that working with animals was something I wanted to do for a career.
All through high school I spent my free time volunteering at shelters and occasionally working at the Jasper Veterinary Clinic. I have my own two cats: Soy Soy, who I got as just a kitten, and Marshmallow, my baby who was brought into the vet clinic as a stray. Today I am so grateful to wake up and work with animals everyday while learning from two incredibly talented doctors. I hope to further my education in this field in the future.
Katy Petri
From a young age I have always had an affinity and deep love for animals. I grew up in Kamloops with everything from cats and dogs to hedgehogs. I worked at a dog training facility as a teenager and quickly found how passionate I was about working with animals. I moved to Kelowna with my cats and Saint Bernese (Duke). I often spend my days off trekking around town with him. I am so excited to be a part of Spall & Harvey Animal Hospital, nothing compares to the feeling of helping animals in need. My favorite part about working in this position is when a nervous dog comes in and I can help calm them and show them we are not people they need to fear. I look forward to meeting your pets, showing them that Vets do not have to be scary and keeping them in their best shape!
Gautam Gulati
My love for dogs began when my father brought my pet Leo home when I was 23. He is now 6 years old and an integral part of my life. I knew right then and there that I wanted to build my career around making the lives of animals better. I first started working with cats when the clinic opened and Triskit, our lovable orange clinic kitty soon became my son. Every day when I get to work, he runs to the door to greet me as soon as he hears my voice. This is the best part of my day everyday. Working with animals brings me immense joy and gives me purpose. I feel very blessed working alongside our amazing doctors, keeping animals happy and healthy!
Lisa Haroldson
I am so happy to be a part of the team at Spall and Harvey Animal Hospital, where I can help provide loving care to everyone's adorable furry friends. Growing up with cats, dogs and more, I have always felt a strong connection with animals. I previously volunteered at the SPCA for 2 years where I of course ended up adopting my feline baby, Bruce. After graduating from SFU with a degree in Neuroscience, I felt like a change in paths was calling me to a new life in the beautiful Okanagan and have not looked back since. Outside of work, I enjoy gardening, dancing, working on personal development and having cuddle time with Bruce.
Amanda Kloetzer
My name is Amanda and I've lived in Kelowna since I was 4 years old. I graduated from the Veterinary Hospital Assistant program at the Centre for Arts and Technology in December 2021. I am so happy and lucky to be part of the team at Spall and Harvey Animal Hospital where I feel accepted and cared for while also working with everyone to help and heal the animals that need us. Coming home to my orange tabby, Nugget, is one of the best parts of my day.
Nevada Hutchison
As a little girl I always dreamed of working in a vet clinic. I've always had a love for animals. Growing up we always had a wide range of animals from dogs and cats to small animals and reptiles. I previously volunteered at the local S.P.C.A and helped my mom out with fostering all sorts of animals. My first job was at a local pet store where my passion for all animals grew. I recently moved to Kelowna with my dog Kilo and cat Boomer and decided I'd love to further my passion for animals at Spall and Harvey Animal Hospital. In my down time you can find me hiking around Kelowna and spending time with my pets. I look forward to meeting you and your beloved pets and keeping them comfortable while they get the best vet care provided!
Vanessa Mitcham
If you asked me what I wanted to be when I was a child I would've said a veterinarian. To this day I still feel the exact same! I am currently working towards my career goal by studying zoology at UBC Okanagan and gaining valuable experience here at Spall and Harvey Animal Hospital. In the future I hope to attend vet school to get my DVM. I would love to travel for work and specialize in exotic animals. It is my absolute dream to one day work with kangaroos and koalas in Australia, or even tigers and elephants in Thailand!
Our Pet Care Services include
PET DENTAL CARE | PET DIET & NUTRITION | PET MICROCHIPPING | PET PARASITE CONTROL | PET VACCINATIONS | PET WELLNESS & PREVENTIVE CARE | PET SURGICAL SERVICES
Our Animal Hospital has been helping pet owners from Kelowna, Chute lake, Peachland, Westbank, West Kelowna, South Kelowna, Lake country, Nahun, Fintry, Mckinley landing, Traders cove and the surrounding areas.
Contact Spall & Harvey Animal Hospital – Kelowna Emergency Veterinary Clinic