ABOUT SPALL & HARVEY ANIMAL HOSPITAL
VETERINARIANS IN KELOWNA, BC
Dog Dental Cleanings | Pet Flea Treatment | Animal Vaccinations
Harsh Joshi
BVSC & AH, DVM
I graduated from the Punjab Agricultural University in 2011. After graduation, I enjoyed providing veterinary care for large animals until 2018 when I decided to move to Canada. I cleared the veterinary licensing requirement from the Western College of Veterinary Medicine in Saskatchewan, Canada, and stayed in Kamloops for 2.5 years working in a small animal clinic. Finally, I settled down in Kelowna, the heart of the Okanagan. I love to spend my time away from the hospital with my wife, Rohini, and my domestic shorthair cat, Rosé. I also take great pride in my son, Nitay, and enjoy going on walks and runs with him daily.
BarinderPal Sidhu
BVSC & AH, DVM
I graduated from the Punjab Agricultural University, in 2011 with Dr. Joshi. I cleared my veterinary licensing requirement from the Western College of Veterinary Medicine in Saskatchewan, Canada. Before moving to Kelowna, I worked in a small animal clinic for 2 years in the city of Airdrie, AB. Since then, I have moved to Kelowna with my wife, Monica, and my son, Kabir. I enjoy travelling, photography, outdoor activities and visiting my family and friends. I also love spending time with my 2 cats, adopted from a rescue, Triskit and Lettuce. Settling down in the Okanagan was always a dream of Dr.Joshi and I since our vet school days together.
Karan Singh (Supervised Veterinarian)
BVSC & AH
Hi, I'm Dr. Karan Singh! After graduating in 2015 from Guru Angad Dev Veterinary University in Punjab, India, I spent several years working with large farm animals before moving to Canada. Both Dr. Joshi and Dr. Sidhu have mentored me since I joined the team at Spall and Harvey in December 2021. Presently, I am working as an Associate Veterinarian and am registered with the Canadian Veterinary Medical Association (CVMA). During my free time, I love hiking, reading, and exploring new places. Besides a love for cats and dogs, I am also an avid equestrian with a former specialty in Dressage, Show Jumping, and Tent Pegging! I hope to provide you and your four-legged friends with the best possible care!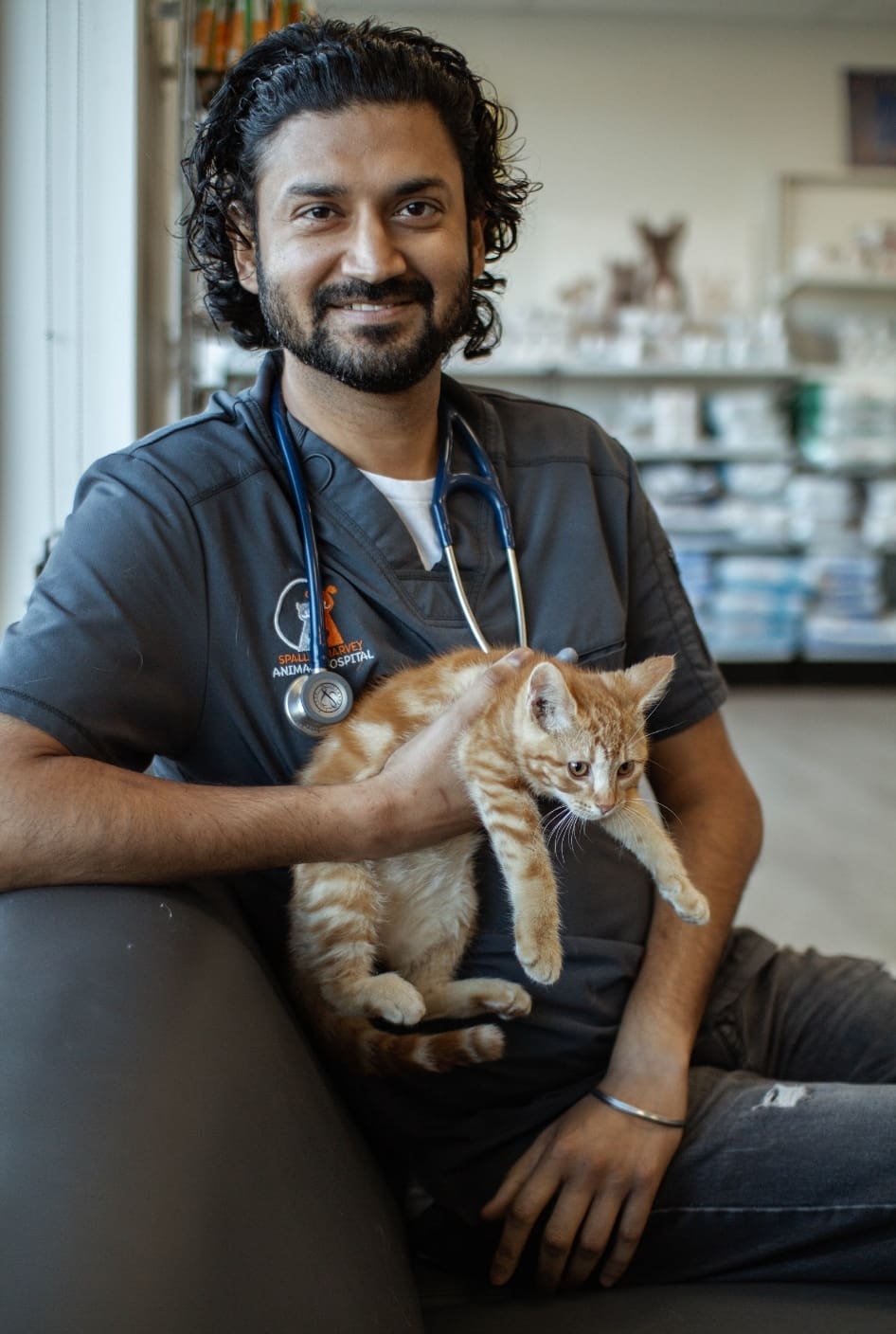 Amandeep Singh
Hi, I'm Dr. Aman, I am a dedicated veterinarian with a strong passion for animal care and well-being. My journey in veterinary medicine began with graduation from GADVASU and since then I have spent five fulfilling years of mixed animal medicine. With years of hands on experience, I had the privilege of working with a diverse range of animals from beloved pets to farm animals. My commitment to provide the best care to every animal I encounter is unwavering. For the past year, I've been working at the respected Spall and Harvey Animal Hospital, under the supervision of Dr. Joshi and Dr. Sidhu. During this time, I've been fortunate to enhance my veterinary skills with their guidance and support. Beyond my profession I am an avid reader and writer. I believe that staying updated on the latest advancements in veterinary medicine is crucial and I enjoy sharing my insights on professional and personal life through the written word. When I am not in clinic or writing I am an enthusiastic traveler. Exploring new cultures landscape and meeting people around the world is a source of inspiration and joy for me. Whether it's ensuring that your furry friends are in best health or penning down my thoughts, I am dedicated to make a positive impact.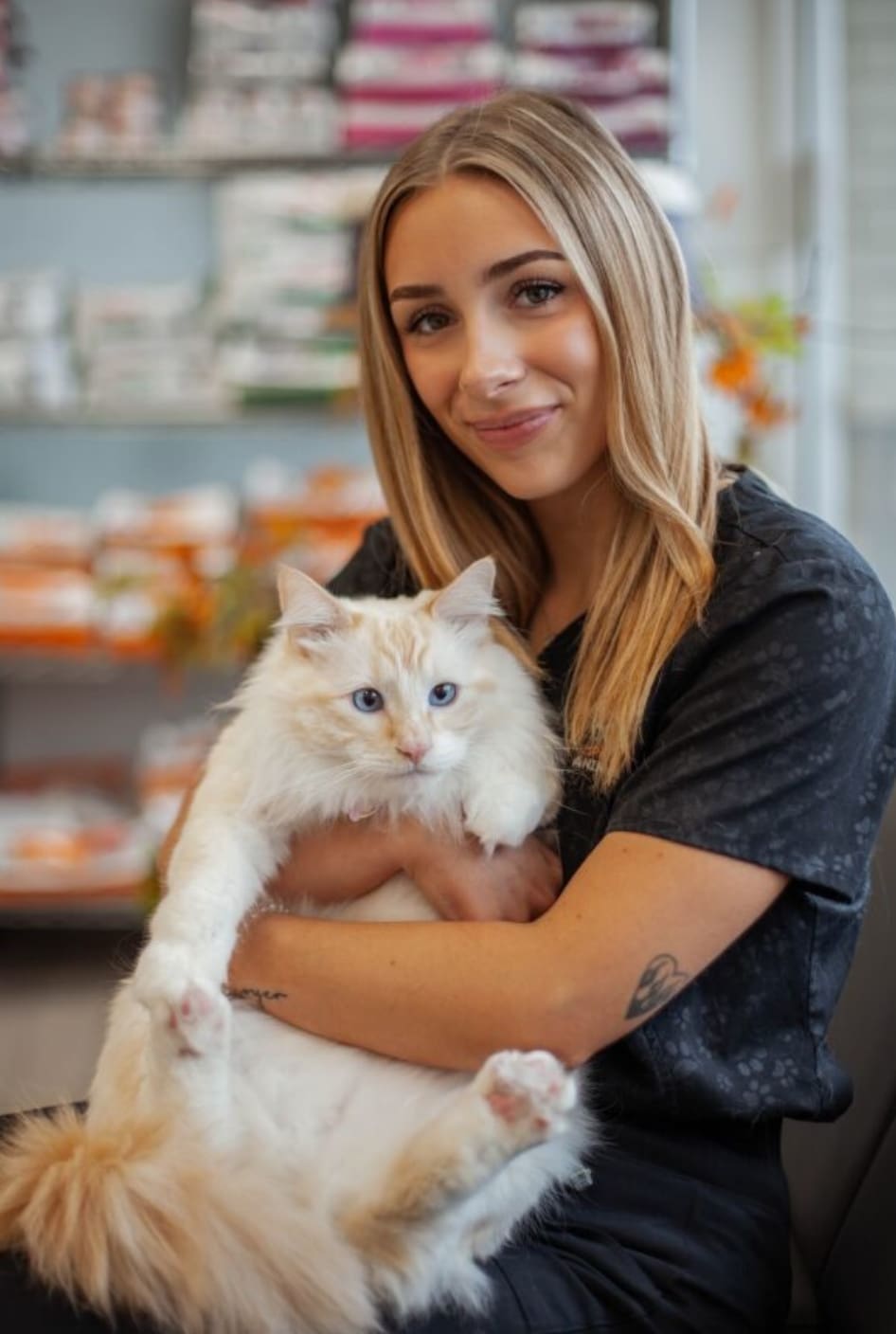 Nyah Adams
From a young age I've always had an infinite love for animals, growing up with everything from cats and dogs to chickens. I quickly found out how passionate I was for working with animals. I moved to Kelowna with my cat Soy Soy and recently just welcomed a new cat member to our family (Marshmallow). I am so excited to be a part of Spall & Harvey Animal Hospital and learn from such talented and compassionate Doctors. Nothing compares to helping animals in need.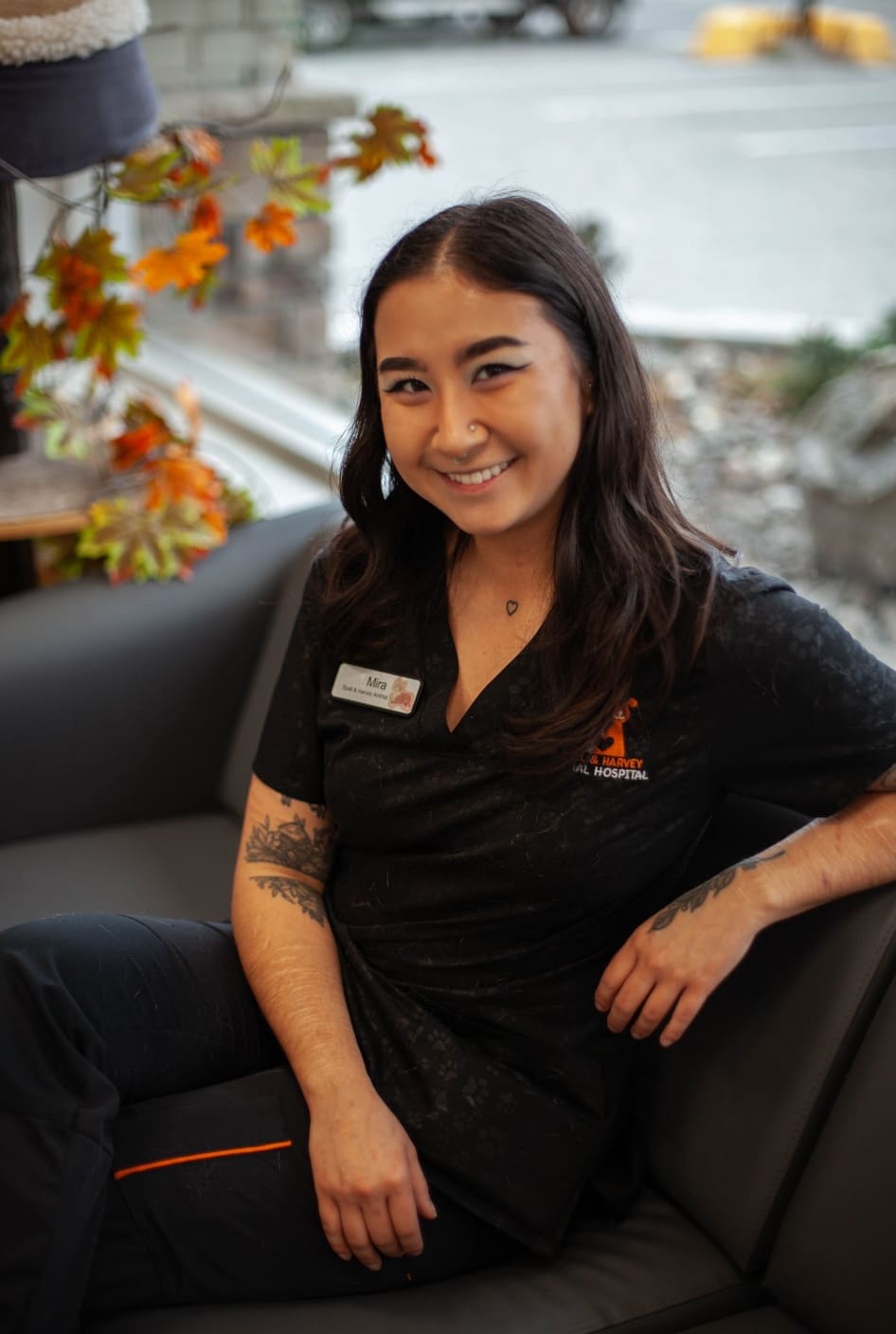 Mira Lindeboom
As far as I can remember I knew I wanted to work with animals. As a kid I was always so fascinated and had a strong passion for animals and knew I wanted to get a job where I could help them.  I recently graduated from the Veterinarian Health Care Assistant course with CDI college. I began working here at Spall and Harvey Animal Hospital to complete my practicum hours for school and I have been here ever since. Working here has been such an amazing experience. I never could have imagined I would find a job I looked forward to going to every single morning. I am so grateful to be a part of this team and feel so blessed to be working alongside such talented doctors and am excited to continue to expand my knowledge in this field.
Nyomi Skulmoski
Ever since I was little, I've been obsessed with animals, especially cats and dogs. I knew no matter what I decided to do with my life, I always wanted to help animals in any way I could. I grew up in an apartment that didn't allow pets, but fortunately my grandma started up her own cat sitting business. I always got to tag along and learn how to care for cats and small dogs. My dream is to open up my own cat cafè to help rescue and adopt out as many cats as I can! My previous cat, Rosco showed up at my house as a very feral and malnourished stray. Trapping him, earning his trust, and converting him into the most loving indoor cat was one of the most rewarding experiences I've ever had. Every animal deserves love, and I'm so blessed to be working in a place where I can spread love and compassion to everyone's fur babies.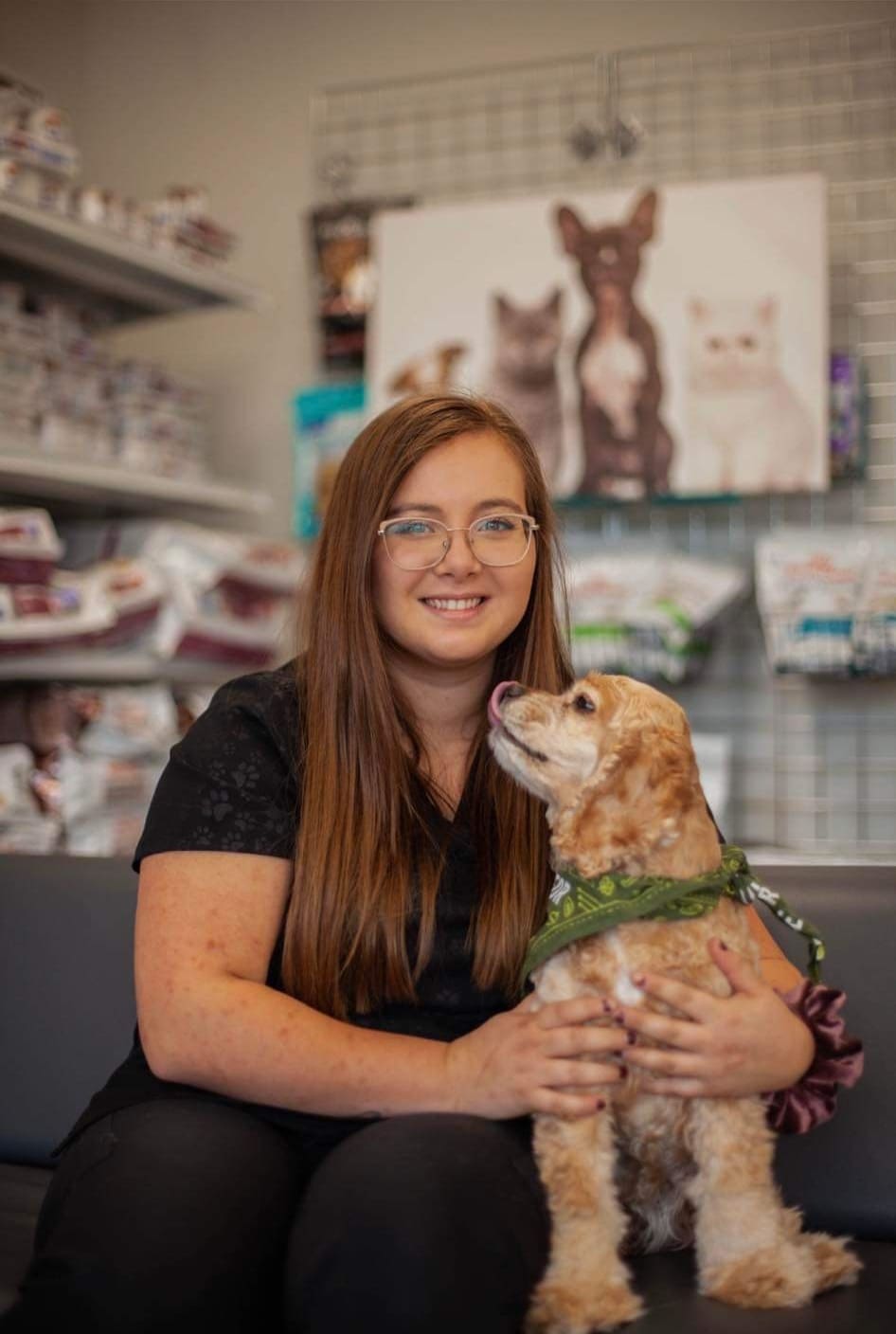 Jessica Friesen
For as long as I can remember, I have always had a soft spot for animals. While growing up, I was mostly surrounded by dogs which deepened my love for them. Now I have my very own fur baby named Cassie, an 8-year-old Cocker Spaniel! My first job was working at a doggy day care in Saskatchewan, and when I moved to Kelowna, I continued my career in the daycare business. I have now decided to explore my passion and apply my skills at Spall and Harvey Animal Hospital. I am excited to be a part of the amazing team here and meet all your lovely pets! 
Rowan Forsberg
I have always had a deep passion for animals and I grew up on a farm with all different kinds. One of my four cats (named Cubert) came into our clinic as a stray and I started fostering him. I ended up falling in love and wound up adopting him! I am currently striving towards becoming a veterinary technician specializing in wildlife rehabilitation. I have been working at Spall & Harvey Animal Hospital since July of 2022 expanding my knowledge of veterinary care. In my down time you can find me hiking, dancing, and of course cuddling with my furry babies. I look forward to caring for you and your pets!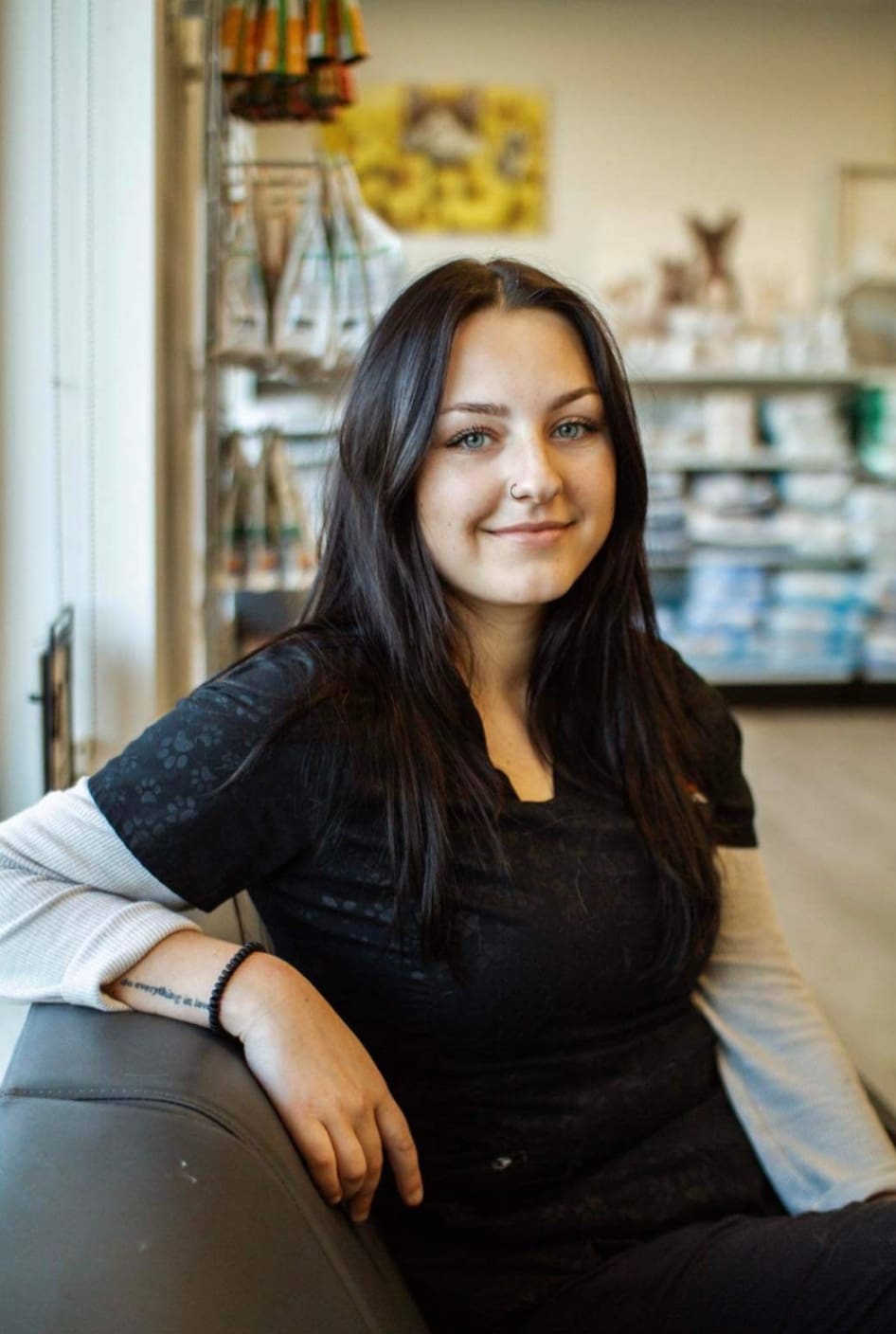 Sydney Reed
I started as a vet assistant in September 2020 in Kamloops BC and have loved the work ever since. I moved to Kelowna recently and am loving being at Spall and Harvey Animal Hospital! I hope to go back to school soon to do my RVT schooling. I love all animals but especially love cats, dogs, and horses. I have 2 cats and a dog of my own and love to work with horses. I am very passionate about veterinary medicine and love taking care of everyone's fur babies everyday.
Daina Burnett
I absolutely love animals. There has always been some kind of pet in my life ranging from cats to livestock. Currently I have a German Shepherd and two kitties. Plus my family has a farm full of horses, cows, and chickens in Alberta. When I started figuring out what I wanted to do after high school it just made sense for animals to become my career. I am currently attending CDI college to get my VHCA diploma. I have a huge passion for caring for animals and I hope to one day start my own non profit rescue that helps not only cats and dogs but larger animals that are in need as well. This is my first job in a veterinary clinic and I absolutely love it here. I am so thankful to work along side extremely talented doctors as well as other super knowledgeable veterinary assistants.
Ishika Saini
With a lifelong love for animals nurtured on a farm among cows and dogs, I continue to live my passion for animals by working at the Spall and Harvey Animal Hospital. Working here has been a wonderful and fulfilling experience as I get to learn something new everyday and enrich my knowledge about veterinary care. My two dogs Chop and Rico have been my cherished family and have shown me the true meaning of unconditional love. As I aspire to become a veterinarian someday, working with an amazing team of doctors, technicians and fellow assistants is a significant step on that journey.
Nicole Trofimoff
Working with animals has always been something I've wanted to do and working here has given me an amazing view into the world of veterinary medicine, alongside incredible people that are just as passionate about our world's four legged friends. I enjoy hiking with my goofball labrador Merlin and watching action movies with my fluffy felines Luna and Moo. I look forward to helping in any way that I can and meeting your furry companions!
Rajan Gupta
I graduated from GADVASU in India. After my graduation, I started my career in large animal practice and slowly moved towards small animals. Overtime my passion for working with small animals grew. I began my search for a clinic to fulfill my passion and enhance my skills. Ultimately I landed an opportunity to work at Spall and Harvey Animal Hospital. I've been enjoying every second working alongside the amazing team and excited to see where this journey takes me.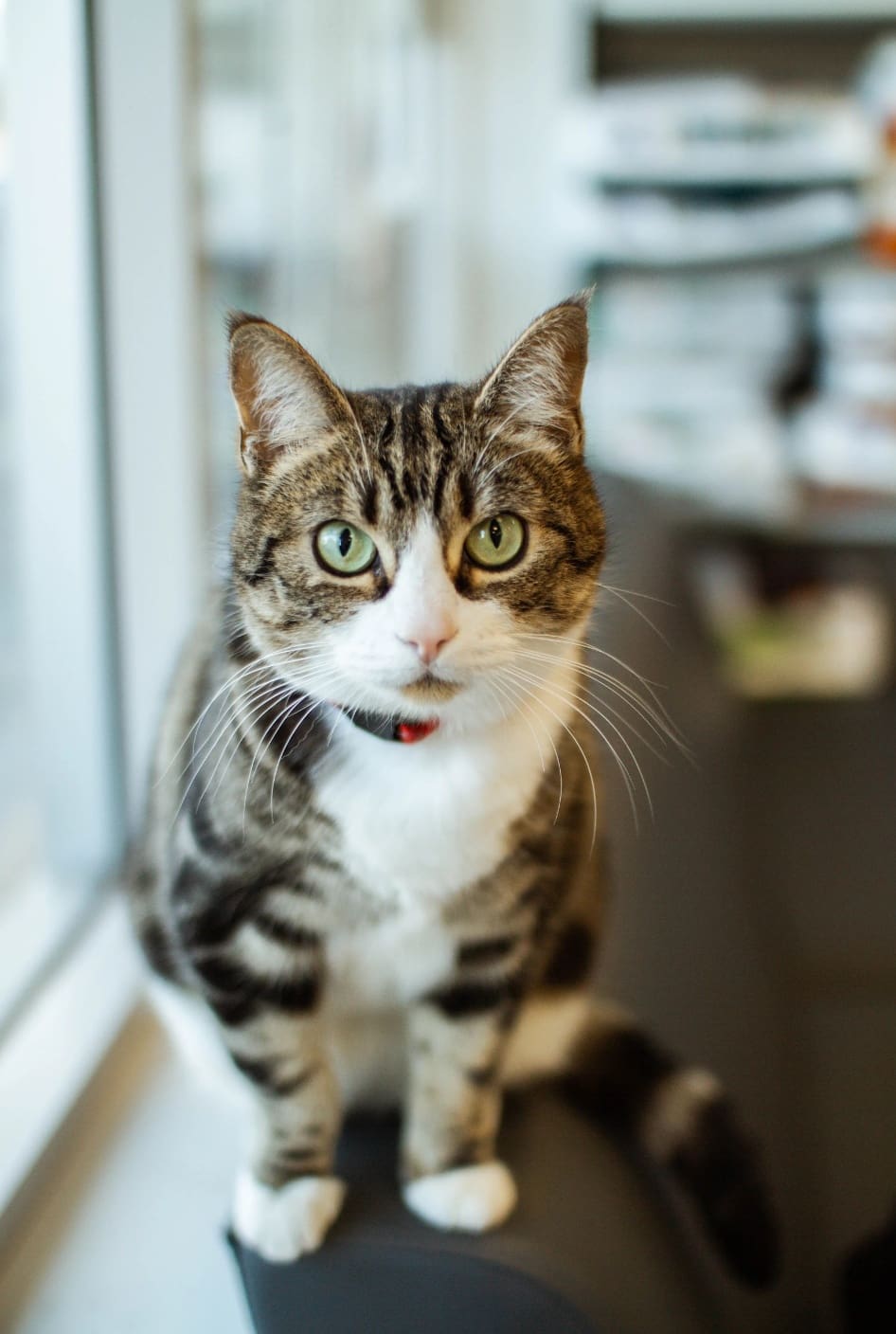 Our Pet Care Services include
PET DENTAL CARE | PET DIET & NUTRITION | PET MICROCHIPPING | PET PARASITE CONTROL | PET VACCINATIONS | PET WELLNESS & PREVENTIVE CARE | PET SURGICAL SERVICES
Our Animal Hospital has been helping pet owners from Kelowna, Chute lake, Peachland, Westbank, West Kelowna, South Kelowna, Lake country, Nahun, Fintry, Mckinley landing, Traders cove and the surrounding areas.
Contact Spall & Harvey Animal Hospital – Kelowna Emergency Veterinary Clinic